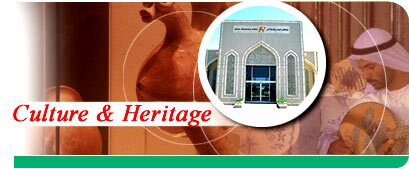 Museums

In Sharjah, a museum is a reservoir of man's past inherited experience to nurture the ambitions of the present and next generation.
It is a place where the entire family can visit and enjoy together the pride of the traditional past, to have fun and education through interactive hands-on exhibits. To develop a future scientific profession and an analytical way of thinking.

Sharjah Museums have something to offer everyone. As you explore our site you will find more detailed information about their collections, exhibits, special events, educational programs and scientific departments.


SHARJAH HERITAGE AREA

SHARJAH ARCHAEOLOGY MUSEUM

SHARJAH NATURAL HISTORY MUSEUM

ARABIAN WILDLIFE CENTER

SHARJAH SCIENCE MUSEUM

DISCOVERY CENTER

SHARJAH ISLAMIC MUSEUM

AL MAHATAH MUSEUM

SHARJAH POLICE MUSEUM

PLANETARIUM

TRADITIONAL JEWELLERY MUSEUM

POPULAR MEDICINE MUSEUM

PHILATELIC
MUSEUM

MARITIME MUSEUM

COSTUME & COSMETICS MUSEUM

NUMISMATICS MUSEUM

RESTORATION MUSEUM

ESLAH MUSEUM

Al Hisan Museum (Sharjah)

Al Hisan Museum (Kalba)

Bait Al Gharbi

Bait Khalid bin Ebrahim Al Yousef

Traditional Games House

ANTIQUE AUTOMOBILE MUSEUM