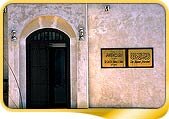 Through the great efforts of the government of Sharjah, "The Media and Education" worked on rebuilding the house and renovating it to stand as a perfect complete museum in which some of the magnificent Islamic Antiques, which are said to be unique and extremely rare, are exposed.

The Islamic Museum is an edifice to civilization, a witness to the deep Sharjah roots in the Arab and Islamic culture and an emphasis to the legacy of the title Sharjah has recently earned as the "Capital of Arab Culture '98". His Highness Dr. Sheikh Sultan bin Mohammed Al Qassimi, Member of the Supreme Council, Ruler of Sharjah, opened the Museum on Friday 25 Jumada the second 1417 (Hijri Calendar), 6th November, 1996.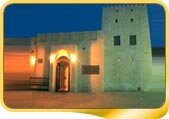 The Museum exhibits a range of important Islamic artifacts and manuscripts expressing the supremacy of the distinct Islamic heritage. This range contains a number of scientific and literary religious manuscripts and several collections of the arts and crafts of the Islamic civilization, including clay, pottery and glass as well as metallic handicrafts inlayed with silver, gold and brass. The museum also exhibits silver and textile handicrafts as well as ornamentation tools, jewelry and various Islamic mints, dating to both Abbaside and Omayyad eras. These mints include collections of silver Dinars and Dirhams. Moreover, there are a number of scientific systems, especially astronomical ones. Other exhibits include archaeological findings dating from the Islamic era, found in varied excavation sites in the Emirate of Sharjah. They include arms and varied samples representing styles of the civilized Islamic life for more than 1400 years.

Major attractions at the Museum include the Shamsi House, the Holy Kaaba Hall, the Islamic Mints Hall, the China and Pottery Hall, the Arabesque Hall, the Manuscripts hall, the Archaeology Hall, the Science Hall, and the Metallic Handicrafts hall.

The Museum welcomes its visitors during the following timings:
Daily from 9 am to 1 pm and 5 pm to 8 pm
Friday: from 5.00 pm to 8.30 pm Only
Public Holidays: from 9 am to 1 pm and 5.00 pm to 8.30 pm
The Museum is closed on Mondays
Entry : Adult 5 Dhs
Family 10 Dhs



Sharjah Islamic Museum
P.O. Box 5119
Sharjah, United Arab Emirates
Tel: + 971 (6) 5683334
Fax: +971 (6) 5683746


LOCATION

The Museum is located in Al Gharb, an old Sharjah city district, within the ancient walls of the city, occupying a historical 200 years old house, owned by the late Saeed bin Mohammed Al Shamsi.
Times do alter according to the season, Ramadan and holidays,
so please call ahead of visiting