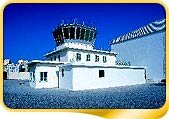 The development of aviation in Sharjah began in the second quarter of the twentieth century, exactly after 1930, when the project of Aviation Station (Al Mahatah) of the British Crown was established.

Before this date, there were several stations or points through which the military and civil airplanes used to cross in their way from Europe to the south east of Asia, in particular to India and until Sharjah emerged as a safe linked point in this route.

Al Mahatah was a big project in which many buildings were constructed. One of these buildings was Al Mahatah Fort (the present museum). It was used as a motel for passengers in transit or residents for a short term. Besides, there was the control tower, land service center, maintenance workshops, number of hangars for airplanes and a large runway for departure and arrival, subway runway for parking and provision for servicing aircraft.

The project was planned and designed by British engineers, but was built by local people from Sharjah, whose efforts helped complete the project within minimum cost.

Now, according to the directives of His Highness Dr. Sheikh Sultan Bin Mohammed Al Qassimi, Member of the Supreme Council and Ruler of Sharjah and under his honorable patronage, part of Al Mahatah Project, which was being called the old airport of Sharjah, has been converted into a unique museum for innovations and old industries. The museum will be officially opened on March 14, 2000.

Al Mahatah Museum comprises the following divisions and sections.
Aviation Division

Division of old innovations, crafts and professions

Old Sports Section

Transcription Section

Bicycles and wheels Section

Offices Section

Section of Chinese objects

Engines Section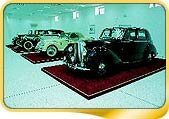 Besides these, part of the unique additions is a steam engine with carriages, the model of an original innovation dedicated to children to have an interesting and attractive trip into the past.

The museum includes a number of new services provided to visitors, such as Sharjah tourism and commercial promotion office, shops for the sale of souvenirs and gifts, information office, with information about facilities and publications of the Department of Culture and Information

Visit the Al Mahatah Museum to know about the innovations and achievements of the modern century, which has become part of our heritage.

Come in, for a spectacular cruise among the ancient innovations and creative thoughts.
Timings : Daily from 9:00 am to 1:00 pm and 5:00 PM to 8:00 PM
Friday : from 5:00 PM to 8:00 PM only
Public Holidays : from 9:00 am to 1:00 PM and 5:00 PM to 8:00 PM
The Museum is closed on Mondays.
Entry : Free of Charge
Contact : Al Mahatah Museum
PO Box 2258
Sharjah, United Arab Emirates
Tel : +971 (6) 5733079
Fax : +971 (6) 5733711
Parking is available in front of the Museum

E-Mail :
http://www.shjmuseum.gov.ae
http://www.sharjahmuseums.com